Build Coffee is a coffee shop and bookstore in the Experimental Station on the South Side of Chicago. Surrounded by community-driven non-profits and civic journalism projects, Build is designed as a hub of great coffee and radical collaboration.
We act as a small venue for performances, workshops, gallery shows, book groups, game nights, and more. We sell used books, local small press publications, journals, comics, art books, and zines.
We also run the Build Coffee Meal-Based Residency Program, a gallery show and residency aiming to nourish and sustain local art and artists.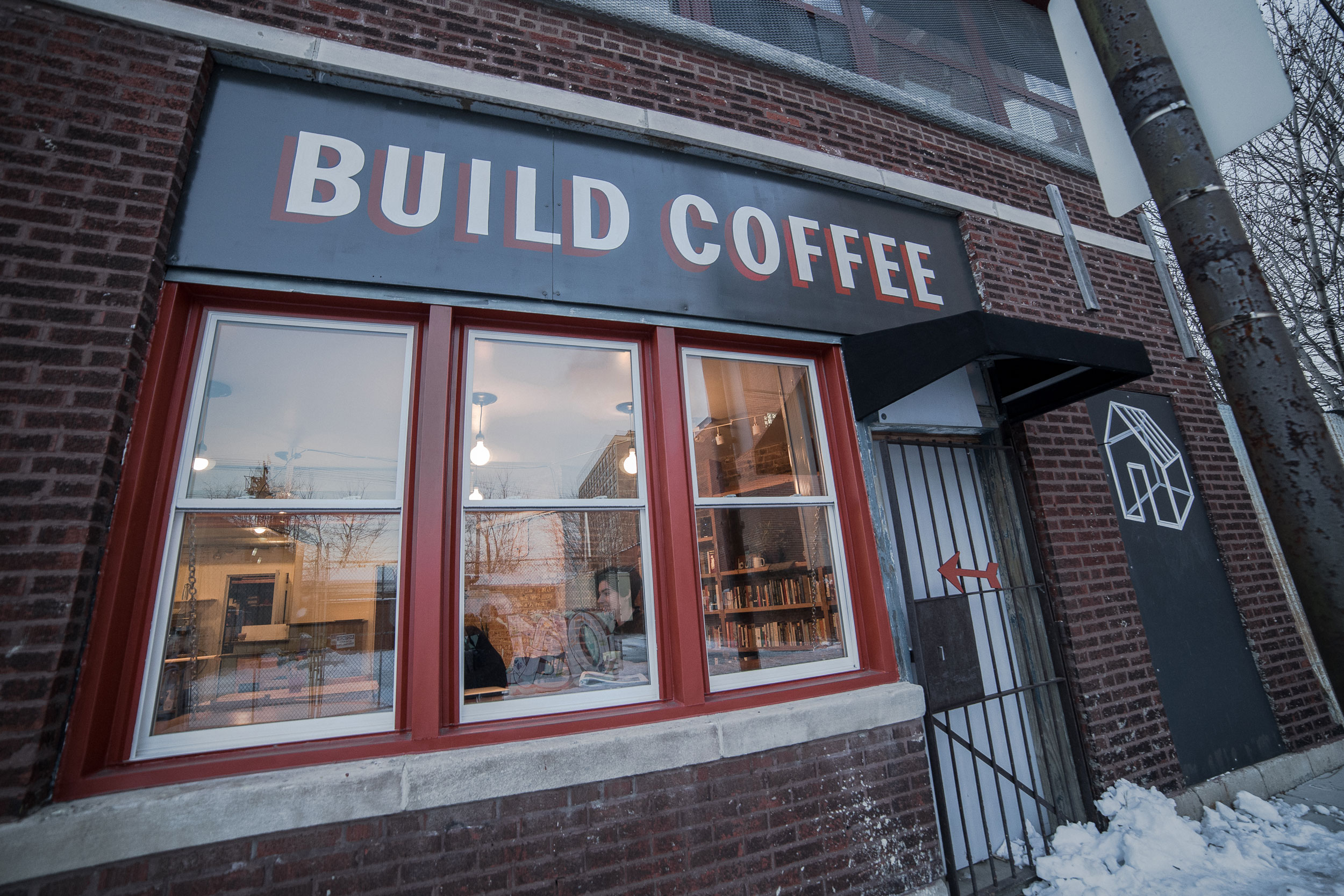 Build Coffee hours
Monday to Friday   8am-5:30pm
Saturdays   9am-5:30pm
Sundays   9am-3pm
Build Coffee is located at: 6100 South Blackstone Ave
Chicago, IL 60637 We're in the Experimental Station, a non-profit working to build independent cultural infrastructure on the South Side of Chicago. Our neighbors within the two-story brick building include bike shop/mentoring program Blackstone Bicycle Works and three of the most exciting journalism projects in the city: the Invisible Institute, City Bureau, and the South Side Weekly.
We also share the building with the 61st St. Farmers Market, a year-round market with fresh food from local and regional farms.

We have Build Coffee totes, pins, crewnecks, and gift cards available in our online shop!
Our bookshop features carefully curated used books and new stock from local presses and indie publishers. If you're an artist or small press and would like to get your books/zines/comics/chapbooks on our shelves, check out our consignment form and get in touch at books@buildcoffee.org. We also gratefully accept book donations!
We serve coffee from HalfWit Coffee Roasters, who are small like us but serious about their beans. Like we do, they think coffee should be thoughtfully sourced, roasted and brewed with love and skill, and served without pretension.
Our pie is from Justice of the Pies, an out-of-this world local bakery. We make our toast from Publican Quality Bread, which features local grains and award-winning, naturally leavened loaves. Whole boules and baguettes are available Saturdays!
We cater hot coffee and tea, local pies and pastries, light lunches, and more—check out the menu here and get in touch at catering@buildcoffee.org or (773) 627-5058. $5-$10 delivery to Hyde Park & Woodlawn available with advance notice.
Build Coffee acts as a small venue for performances, workshops, gallery shows, book groups, game nights, and more. Interested in hosting with us? The shop is available to rent for public and private events. Shoot an email to our booker directly at events@buildcoffee.org.
Sunday, October 27
Permalink
Tie-Dye Workshop with Lattice Textile Studio
4:00 pm — 6:00 pm
Come tie-dye with us! This hands-on workshop will be led by current Build Coffee artist-in-residence Claire Zurkowski of Lattice Textile Studio. Together, we'll learn the basic techniques of tying, dying, and fabric design. We'll first create swatches to try different techniques, then everyone will have the chance to dye a t-shirt implementing what we've learned. Claire will provide dye and one t-shirt per person. Please feel free to bring old clothing to dye as well! Fabrics must be made of natural fibers (cotton, rayon, hemp, linen, silk, etc.)—no wool, polyester, nylon, acetate. $10 suggested to cover materials. Pay what you can; no one will be turned away due to lack of funds!
Learn more →
Permalink