Build Coffee is a coffee shop and bookstore in the Experimental Station on the South Side of Chicago. Surrounded by community-driven non-profits and civic journalism projects, Build is designed as a hub of great coffee and radical collaboration.
We act as a small venue for performances, workshops, gallery shows, book groups, game nights, and more. We also sell used books, local small press publications, journals, comics, art books, and zines.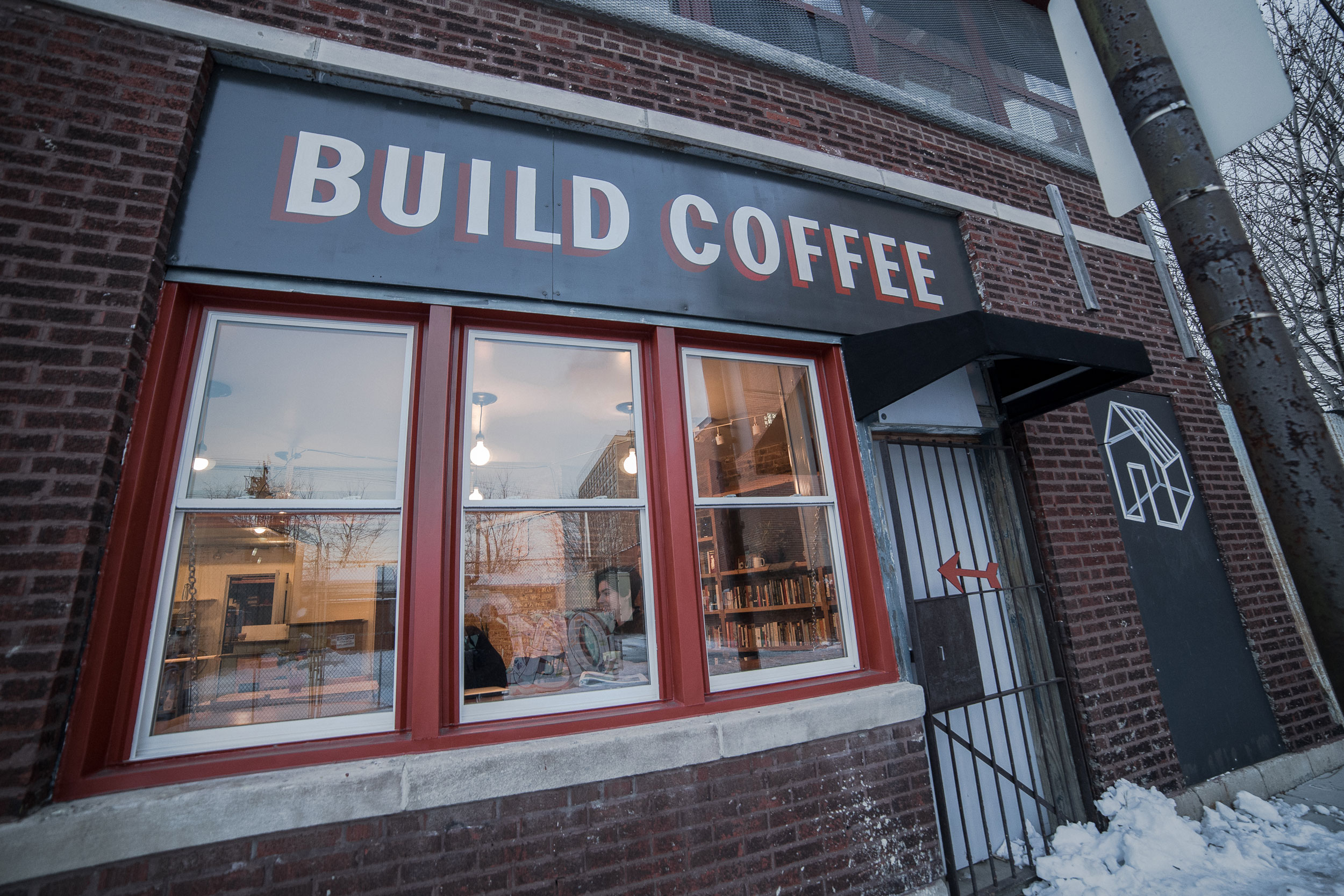 Build Coffee hours:
Mondays-Fridays   8am-5:30pm
Saturday & Sunday   9am-5:30pm
Build Coffee is located at: 6100 South Blackstone Ave
Chicago, IL 60637 We're in the Experimental Station, a non-profit working to build independent cultural infrastructure on the South Side of Chicago. Our neighbors within the two-story brick building include bike shop/mentoring program Blackstone Bicycle Works and three of the most exciting journalism projects in the city: the Invisible Institute, City Bureau, and the South Side Weekly.
We also share the building with the 61st St. Farmers Market, a year-round market with fresh food from local and regional farms.

We have Build Coffee totes, mugs, pins, and coasters available in our online shop!
Our bookshop features carefully curated used books and new stock from local presses and indie publishers. If you're an artist or small press and would like to get your books/zines/comics/chapbooks on our shelves, check out our consignment form and get in touch at books@buildcoffee.org. We also gratefully accept book donations!
We serve coffee from HalfWit Coffee Roasters, who are small like us but serious about their beans. Like we do, they think coffee should be thoughtfully sourced, roasted and brewed with love and skill, and served without pretension.
Our pie is from Justice of the Pies, an out-of-this world local bakery. We make our toast from Publican Quality Bread, which features local grains and award-winning, naturally leavened loaves. Whole boules and baguettes are available Wednesdays and Saturdays!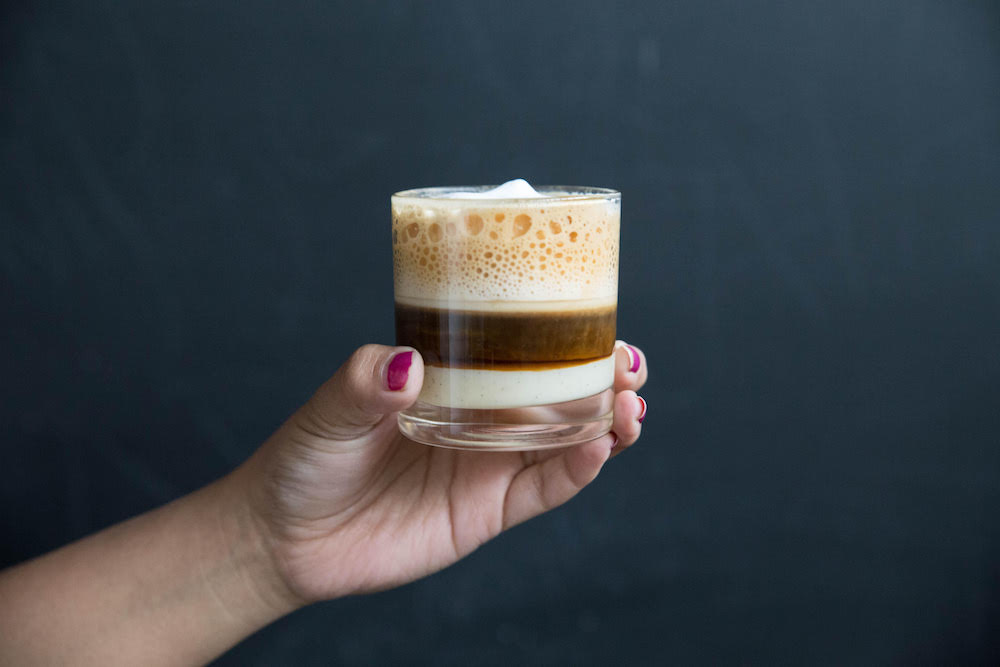 We cater hot coffee and tea, local pies and pastries, light lunches, and more—check out the menu here and get in touch at catering@buildcoffee.org or (773) 627-5058.
Catering is available on a pick-up basis as we build out our delivery system. For large-scale, advance orders, shoot us an email! We're happy to work with you to get you what you need.
Build Coffee acts as a small venue for performances, workshops, gallery shows, book groups, game nights, and more. Interested in hosting with us? The shop is available to rent for public and private events. Shoot an email to our booker directly at events@buildcoffee.org.
Thursday, May 24
Public Newsroom #64: Motherhood and My Media Career
6:00 pm — 8:00 pm
A few months ago we asked the City Bureau community to pitch us Public Newsroom workshops. An overwhelming number of folks wanted to hear from mothers who juggle having families with their media careers. We heard you and compiled an incredible panel of women to share their stories including: Univision Chicago's Vice President and Director of Content Teri Arvesu; WBEZ Reporter Sarah Karp; and freelance journalist Bia Medious. The panel will be moderated by Mikva Challenge's Chicago Executive Director Michelle Morales.
We'll be talking about burnout, discrimination in the workplace, and resources women need at various points in their career when considering motherhood. After the panel we'll break into groups to talk through what organizations and healthcare providers can do to better support moms in the newsroom. Childcare for will be provided for 18-month-olds and up. Youth are also welcome to participate in the evening's workshop. 
Learn more →
Permalink
Thursday, May 31
Public Newsroom #65: How to Investigate Illegal Guns in Your Area
6:00 pm — 8:00 pm
What public tools are available for understanding gun crime in Chicago? What can those tools show you? That's what we're tackling at this Public Newsroom with our friends at The Trace, an independent, nonpartisan, nonprofit newsroom dedicated to shining a light on America's gun violence crisis. Staff from The Trace will teach you how to use online data tools to look at gun trafficking and gun crime in Illinois, including the Missing Pieces Stolen/Recovered Gun Data. We'll also facilitate a discussion about gun myths in Chicago, the stories that aren't told about gun violence, and how gun-related issues have impacted Chicago residents.
Learn more →
Permalink
Thursday, June 7
Public Newsroom 66: Andrea Ritchie Presents #InvisibleNoMore
6:00 pm — 6:00 pm
For the past two decades police misconduct attorney Andrea Ritchie has examined, written and organized around police violence and the criminalization of women and LGBTQ people of color. At this Public Newsroom, Ritchie will be sharing frameworks from her 2017 book Invisible No More: Police Violence Against Black Women and Women of Color. The evening will begin with a presentation from Ritchie and the Invisible Institute's Trina Reynolds-Tyler on how reporters and organizers have often overlook women and LGBTQ people of color. Attendees will then participate in a series of activities around #InvisibleNoMore to reimagine more inclusive news coverage and organizing strategies around policing.
Learn more →
Permalink