Build Coffee is a coffee shop and bookstore in the Experimental Station on the South Side of Chicago. Surrounded by community-driven non-profits and civic journalism projects, Build is designed as a hub of great coffee and radical collaboration.
We act as a small venue for performances, workshops, gallery shows, book groups, game nights, and more. We sell used books, local small press publications, journals, comics, art books, and zines.
We also run the Build Coffee Meal-Based Residency Program, a gallery show and residency aiming to nourish and sustain local art and artists.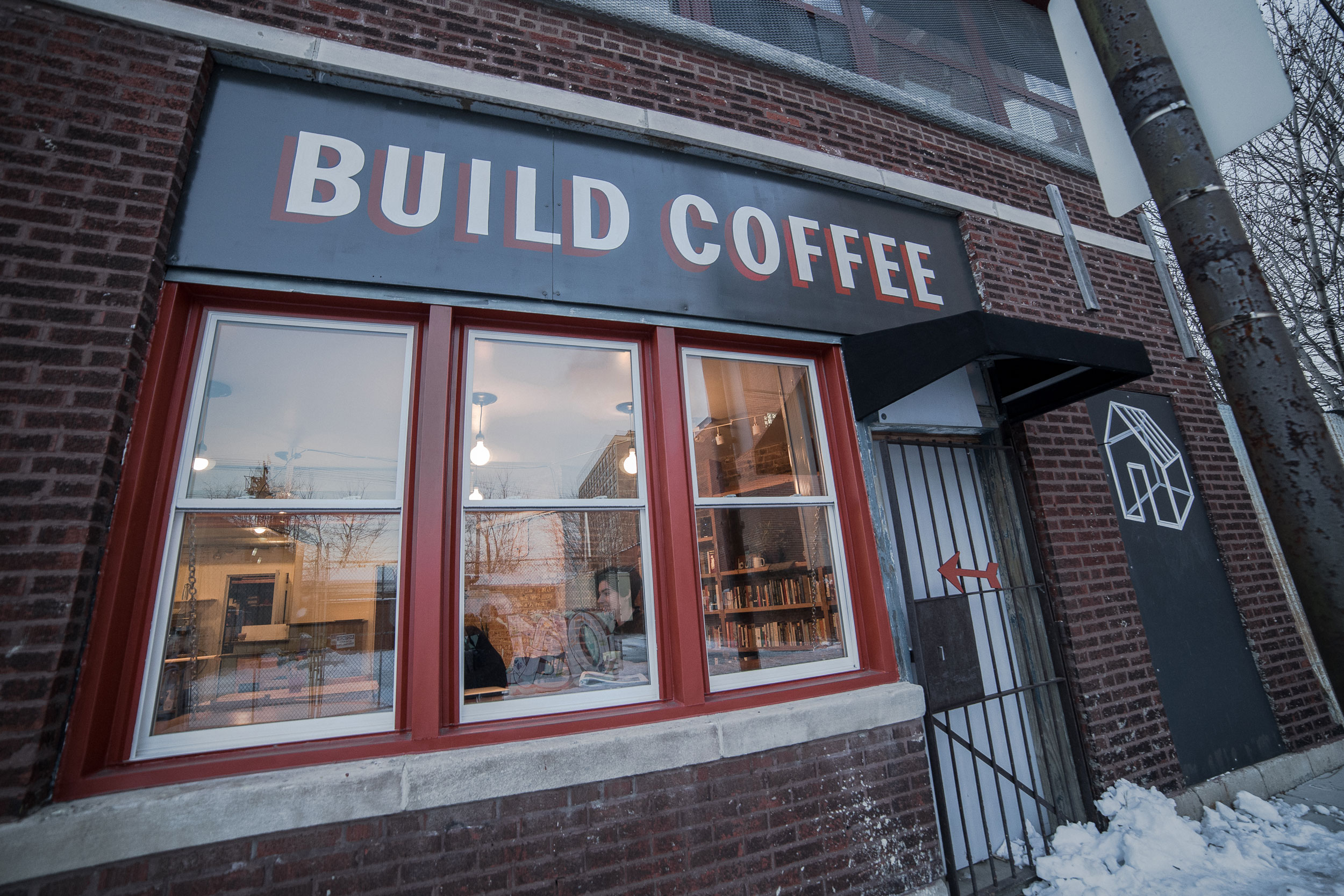 Build Coffee hours
Monday to Friday   8am-5:30pm
Saturdays   9am-5:30pm
Sundays   9am-3pm
Build Coffee is located at: 6100 South Blackstone Ave
Chicago, IL 60637 We're in the Experimental Station, a non-profit working to build independent cultural infrastructure on the South Side of Chicago. Our neighbors within the two-story brick building include bike shop/mentoring program Blackstone Bicycle Works and three of the most exciting journalism projects in the city: the Invisible Institute, City Bureau, and the South Side Weekly.
We also share the building with the 61st St. Farmers Market, a year-round market with fresh food from local and regional farms.

We have Build Coffee totes, pins, crewnecks, and gift cards available in our online shop!
Our bookshop features carefully curated used books and new stock from local presses and indie publishers. If you're an artist or small press and would like to get your books/zines/comics/chapbooks on our shelves, check out our consignment form and get in touch at books@buildcoffee.org. We also gratefully accept book donations!
We serve coffee from HalfWit Coffee Roasters, who are small like us but serious about their beans. Like we do, they think coffee should be thoughtfully sourced, roasted and brewed with love and skill, and served without pretension.
Our pie is from Justice of the Pies, an out-of-this world local bakery. We make our toast from Publican Quality Bread, which features local grains and award-winning, naturally leavened loaves. Whole boules and baguettes are available Saturdays!
We cater hot coffee and tea, local pies and pastries, light lunches, and more—check out the menu here and get in touch at catering@buildcoffee.org or (773) 627-5058. $5-$10 delivery to Hyde Park & Woodlawn available with advance notice.
Build Coffee acts as a small venue for performances, workshops, gallery shows, book groups, game nights, and more. Interested in hosting with us? The shop is available to rent for public and private events. Shoot an email to our booker directly at events@buildcoffee.org.
Saturday, September 21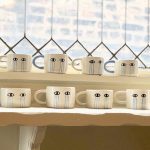 Jamila Goods Patio Pop-Up
9:00 am — 1:00 pm
Jamila Goods is potter Jess Miller, based in Chicago. Jess makes functional ceramics influenced by feelings, intuition, and playfulness. Her work as a clinical psychologist greatly informs her pottery practice—she strives to counterbalance the seriousness and intellectual focus her job demands with a more playful and impulsive method of creating. She has found wheel-throwing to be an ideal complement to being a therapist, encouraging her to get out of her mind and tune into her body to be able to center and form the clay. In trying to find synergy between the disciplines of therapy and pottery, she hopes that each practice informs and strengthens the other.
Learn more →
Permalink
Saturday, September 28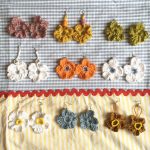 Daysprite Design Patio Pop-Up
9:00 am — 1:00 pm
Daysprite Design is Sam Hultberg, an artist and arts educator raised in Brooklyn, NY and working out of Bridgeport. Her work consists of sculpture, design, and fabricated objects as well as writing and photography. She is a recent BFA graduate of The School of The Art Institute of Chicago (2018), teaches part-time at One River School of Art and Design, and makes and sells handmade jewelry at several shops around the city. Sam's work explores the semiotics of props, how assumptions of function vs. dysfunction help us navigate reality, and capitalism's love affair with all things plastic. She is passionate about public skill sharing, camping, crocheting, small reptiles, and learning a new thing everyday.
Learn more →
Permalink
Thursday, October 10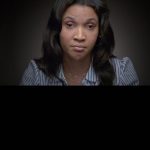 Public Newsroom 121: "We Are Witnesses" Chicago Edition
6:00 pm — 8:00 pm
What is our responsibility to society when it comes to the criminal justice system? For journalists, we ask: how do we cover it ethically? For judges, prosecutors, police officers and everyday citizens, how do we ethically participate in what is often called a flawed system? To spearhead this discussion, City Bureau will be screening 'We Are Witnesses: Chicago,' an immersive short video series exploring the nature of crime, punishment, and forgiveness through portraits of Chicagoans from all walks of life who have been touched by the criminal justice system.
A selection of films from the new series will be shown, followed by a panel discussion with the Witnesses moderated by Charles Preston. The panelists include:
Channyn Lynne Parker, advocate in Cook County jail
Bill Dorsh, retired CPD officer who testified against wrongful convictions
Risa Lanier, Chief of criminal prosecution for the office of Kim Foxx
Maggie Bowman, Director, We Are Witnesses
We Are Witnesses: Chicago is produced by The Marshall Project in partnership with Kartemquin Films and Illinois Humanities. Directed by Maggie Bowman and Stacy Robinson.
Learn more →
Permalink